Fukushima Station




Fukushima Station (福島駅, Fukushima-eki) is a railway station in the city of Fukushima, Fukushima Prefecture. The station is the terminus for the JR East Yamagata Shinkansen, and Ōu Main Line, as well as the third-sector Abukuma Express Line and privately operated Fukushima Kotsu Iizaka Line.

Through services between the Tōhoku Shinkansen and the Ōu Main Line, under the name Yamagata Shinkansen, began in 1992.

(Courtesy of Wikipedia)
1-1 Sakaemachi, Fukushima, 960-8031
15.5 km / 9.7 miles - (29 minutes)

Bandai-Azuma Skyline
Opened in November 1959, the Bandai-Azuma Skyline was created to allow visitors to the Tohoku area sightseeing access to the Azuma Mountain Range. The project was part of a larger plan to open up the Bandai-Asahi National Park to tourism. The completed road runs from Fukushima City's Takayu Hot Springs to Tsuchiyu Pass (土湯峠, Tsuchiyu Tōge) for a total distance of 28.7 km (17.8 mi).

The roadway passes directly next to the crater of Mt. Azuma, so visitors can park their cars in the nearby Jododaira Visitor Center and take the short hike up to the crater's rim.

For successfully displaying the sheer scale of the country's Azuma Mountain Range to the visitors of the road, the Bandai-Azuma Skyline was selected by the Japanese Ministry of Construction as one of the top 100 roads in Japan.

Due to heavy snowfall every year in the winter the road is closed from mid-November until early April.

(Courtesy of Wikipedia)
Open daily 24/7. Closed in mid-November to early April due to snow.
Machiniwasaka, Fukushima 960-2261
0.8 km / 0.5 miles - (1 minutes)

Takayu Onsen

Takayu Onsen

Takayu Onsen
Takayu Onsen

Takayu Onsen


The Takayu Onsen us a prominent onsen (hot spring bath) village in Fukushima. There are a variety of accommodations to be found in the Takayu Onsen, including: Adachiya, Azumaya, Hige-no-le, Kagetsu Highland Hotel, Log Cabin Stellaport Youth Hostel, Nuruyu Onsen Nikaido, Ryokan Tamagoyu, Seishinsanso, Takayu Onsen Public Bath Attakayu, and Youth Guest House Atoma. All have onsen baths.
Open daily 0900 - 2100. Closed Thursdays.
25 Takayu, Machiniwazaka, Fukushima, Fukushima
31.0 km / 19.3 miles - (55 minutes)

Mt. Azuma-Kofuji

Mt. Azuma-Kofuji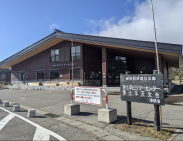 Jododaira Visitor Center




Jododaira Visitor Center, located at an altitude of 1,500 m (4,921 ft), stands part way along the Bandai-Azuma Skyline sightseeing road. Jododaira acts as a base to spend the day hiking nearby mountain routes, including Mt. Higashi-Azuma (1,975 m; 6,480 ft) and Mt. Issaikyo (1,949 m; 6,394 ft).
For those who don't fancy a long hike, the 1-hour round trip walk up and around the crater at Mt. Azuma Kofuji (1,705 m; 5,594 ft; "kofuji" means "little Fuji") is perfect, as it is a very short walk from the Jododaira Visitor Center. It is also an active volcano with an appealing symmetry and a soft conical shape.

The Azuma mountains are all totally unique, and are great places to enjoy local flora and fauna. If hiking in this area, please be mindful that the altitude reaches close to 2,000 m (6,562 ft), so make sure to take equipment necessary in the event of a sudden weather change. The Jododaira area is also prone to high volcanic gas levels, so it is a good idea to check whether the area is open to visitors before making the drive up the mountain roads.

The Jododaira Rest House is also located in the same complex. The rest stop is a good base for treks to Mount Azuma-Kofuji, Mount Issaikyo, and Goshikinuma Crater Lake. Facilities include a restaurant, which serves light meals such as local soba and udon noodle dishes, ramen and snacks.
Visit between late June to late July to see the brightly colored alpine plants that carpet the surrounding area.

There are also two nearby onsens, Tsuchiyu Onsen and Takayu Onsen.

(Courtesy of fukushima.travel and japan.travel)
Open daily 0900 – 1600. Closed during the winter.
1-Washikurayama, Tsuchiyuonsenmachi, Fukushima 960-2157
14.0 km / 8.7 miles - (22 minutes)

Bandai-Azuma Skyline
Opened in November 1959, the Bandai-Azuma Skyline was created to allow visitors to the Tohoku area sightseeing access to the Azuma Mountain Range. The project was part of a larger plan to open up the Bandai-Asahi National Park to tourism. The completed road runs from Fukushima City's Takayu Hot Springs to Tsuchiyu Pass (土湯峠, Tsuchiyu Tōge) for a total distance of 28.7 km (17.8 mi).

The roadway passes directly next to the crater of Mt. Azuma, so visitors can park their cars in the nearby Jododaira Visitor Center and take the short hike up to the crater's rim.

For successfully displaying the sheer scale of the country's Azuma Mountain Range to the visitors of the road, the Bandai-Azuma Skyline was selected by the Japanese Ministry of Construction as one of the top 100 roads in Japan.

Due to heavy snowfall every year in the winter the road is closed from mid-November until early April.

(Courtesy of Wikipedia)
Open daily 24/7. Closed in mid-November to early April due to snow.
1-Washikurayama, Tsuchiyuonsenmachi, Fukushima, Yama District, Fukushima 960-2157
26.4 km / 16.4 miles - (31 minutes)

Urabandai Visitor Center

Urabandai Visitor Center

Urabandai Visitor Center

Urabandai Visitor Center

Urabandai Visitor Center

Urabandai Visitor Center


The Urabandai Visitor Center is the central point to view the Goshikinuma (5-colored marshes). The Visitor Center disseminates information on the rich nature, history and culture of Urabandai located in Bandai-Asahi National Park, the condition of mountain trails, flora and fauna. The multicolored lakes were formed after an eruption in 1887 caused aluminum and silicone to leach into the newly-created bodies of water. Algae and iron oxide later lent even more distinctive hues.

A hike leads from the Urabandai Visitors' Center around a dozen of the lakes. There are as many as 30 lakes scattered around the park. Fit individuals can easily walk the Goshikinuma Nature Trail in an hour (4 km; 2.5 mi).

In order to enjoy using the parks, please be mindful of nature in the national parks. In addition, Asian black bears inhabit the Urabandai area. To avoid accidents with bears, be careful not to have an unexpected encounter.

Courtesty of the Urabandai Visitor Center
Visitor Center open 09:00 - 17:00; closed Tuesdays.
Kengamine Hibara, Kitashiobara, Yama District, Fukushima 969-2701
41.5 km / 25.8 miles - (50 minutes)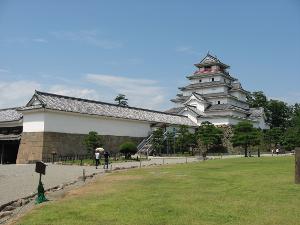 Courtesy of Wikipedia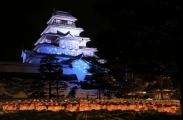 Tsuruga Castle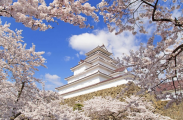 Tsuruga Castle
Tsuruga Castle, also called Aizu-Wakamatsu Castle is a concrete replica of a traditional Japanese castle in northern Japan, at the center of the city of Aizuwakamatsu, in Fukushima Prefecture. The castle was an important Tokugawa stronghold in the Tōhoku region of Honshū.

The castle was besieged in the Battle of Aizu by the forces of the newly formed Imperial army in 1868 during the Boshin War. After a month of isolated defence, Matsudaira Katamori surrendered. The castle buildings, pockmarked by artillery during the siege and structurally unstable, were demolished by the new government in 1874.

The tenshu, the largest tower of the castle, was reconstructed in 1965 in concrete. Currently there is a museum inside, and an observation gallery on top with panoramic views of the city.

The tea room, named Rinkaku, has been restored and is designated as an Important Cultural Property by the prefecture. It is open to the public, and at times tea ceremonies are held there.
Open daily 08:30 – 17:00.
1-1 Ōtemachi, Aizuwakamatsu-shi, Fukushima 965-0873
4.7 km / 2.9 miles - (13 minutes)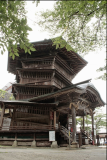 Sazae Temple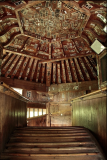 Sazae Temple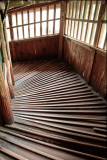 Sazae Temple
The Sazaedo is a Buddhist temple built in 1796. Its architecture is similar in shape to the shell of a horned turban (a shellfish; "sazae" in Japanese) hence its name "Sazae-do". The inside of the temple consists of a double-helix slope, meaning that visitors who come to pray won't meet anybody coming from the opposite direction. This one-way system makes Sazaedo extremely unique.

In 1995, it was designated as a National Important Cultural Property, and in 2018 it was showcased in the Michelin Green Guide (a 1 star, interesting place to visit).

Courtesy of Fukushima Travel
Open daily 08:15 - sunset
Takizawa-155 Itsukimachi Ōaza Yahata, Aizu-Wakamatsu, Fukushima 965-0003
3.9 km / 2.4 miles - (8 minutes)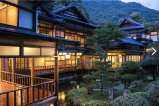 Higashiyama Onsen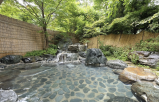 Higashiyama Onsen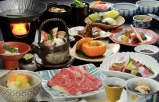 Higashiyama Onsen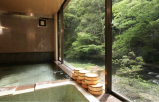 Higashiyama Onsen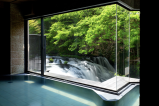 Higashiyama Onsen
Higashiyama Onsen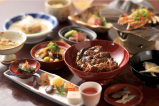 Higashiyama Onsen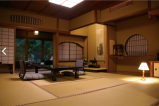 Higashiyama Onsen



The Higashiyama Onsen are "ryusan-onsen", or sodium-sulphate hot springs. The onsen area was opened in the late 8th century, and is said to have been established by the Buddhist priest Gyōki, during the Tenpyo era. According to legend, he discovered the spot by following a bird with three legs. During the Edo period, it was popular with the Aizu samurai, and developed as a retreat area. It is recognized as one of the three top onsens in the old Tohoku area. References to the onsen appear in a traditional Aizu folk song written by Ohara Shosuke.

There are over a dozen onsen in Higashiyama, including: Harataki, Higashiyama Heimat Hotel, Higashiyama Park Hotel Shinfugetsu, Hotel Fushimiso, Irori-no-Yado Ashina, Konjaku-tei, Motoyu Arima-ya, Mukaitaki, Niko Ryokan, Onyado Toho, Ooedo Onsen Monogatari Higashiyama Grand Hotel, Oyado Higashiyama, Shousuke Inn Takinoyu, and Yukkura Inn. Some of these onsen allow non-guests to use their onsens for a fee during certain hours.

Courtesy of Higashiyama Onsen Tourism Association
Open daily; hours vary by establishment.
Yumoto, Higashiyama, Aizuwakamatsu, Fukushima 965-0814
30.1 km / 18.7 miles - (45 minutes)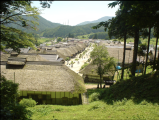 Ouchi-juku Post Town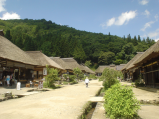 Ouchi-juku Post Town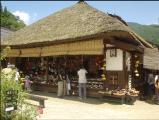 Ouchi-juku Post Town

Ouchi-juku Post Town




Ōuchi-juku (大内宿) was a small post station in Japan's Edo period and part of the Aizu Nishi Kaidō (road). It is now located in the town of Shimogō in Minamiaizu District, in Fukushima Prefecture, and is famous for the numerous traditional thatched buildings from the Edo Period that line its main street.

Ōuchi-juku was an important post town whose buildings served as shops, inns and restaurants for travellers. Many buildings have been preserved as they were before the Meiji Restoration (1868-1912), and the area has been designated as an Important Preservation District for Groups of Traditional Buildings. The village is now a popular tourist attraction.

Courtesy of Wikipedia
Open daily 09:30 - 16:00 (varies by store)
Ouchi, Shimogo, Minamiaizu, Fukushima 969-5207
10.6 km / 6.6 miles - (17 minutes)

To-no-Hetsuri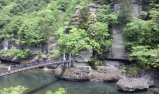 To-no-Hetsuri

Tō-no-Hetsuri (塔のへつり, meaning "tower cliffs overlooking a river" in the local Aizu language) is a 200 metre (656 ft) long natural cliff formation located in Ōkawa Hatori Prefectural Park in Shimogō in Fukushima Prefecture. The area was designated a natural monument in 1943 as a unique example of terrain formed during the Pleistocene epoch. The cliff sides were carved out by the Agano River (known as the Ōkawa River in Fukushima Prefecture) over hundreds of years.

Courtesy of Wikipedia
Shitabayashi-5316 Yagoshima, Shimogo, Minamiaizu, Fukushima 969-5204
42.1 km / 26.2 miles - (55 minutes)

Shin-Shirakawa Station




Shin-Shirakawa Station (新白河駅) is a railway station in the village of Nishigō, Fukushima, operated by East Japan Railway Company (JR East). The station is served by the Tōhoku Shinkansen high-speed line and the Tōhoku Main Line, and is 185.4 km from the starting point the Tōhoku Main Line at Tokyo Station.

In fiscal 2016, the station was used by an average of 2,999 passengers daily (boarding passengers only).

(Courtesy of Wikipedia)
道南 Odakura, Nishigō, Nishishirakawa District, Fukushima 961-8061