Courtesy of Wikipedia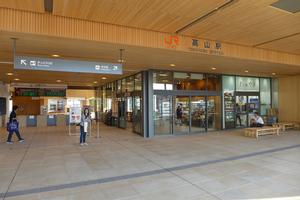 Courtesy of Wikipedia





Takayama Station (Takayama-eki) is a railway station in Takayama-shi (Takayama City), Gifu-ken (Gifu Prefecture) operated by Central Japan Railway Company (JR Central).

The station has a Midori no Madoguchi (みどりの窓口, literally "green window") with a MARS (マルス Marusu, which stands for Multi Access seat Reservation System) capable of selling reserved seats throughout the entire JR system.

The station also serves as a bus station hub.
Japan, 〒506-0053 岐阜県高山市昭和町1丁目22−2
1.6 km / 1.0 miles - (7 minutes)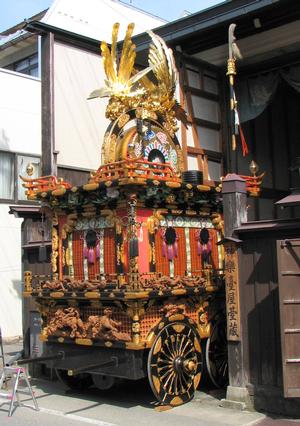 Courtesy of Wikipedia.
Site of the annual Fall Takayama Festival (also called Hachiman Festival) held after are harvested on October 9 and 10 each year. The festival features huge wheeled floats (yatai) which are pulled around the city by kimono wearing men. Each district of the town has its own float. At the top of each float are detailed marionettes which move. These puppet shows are registered as a Japanese cultural asset. The festival happens in the evenings, usually with up to 100 lighted lanterns on them, providing a spectacular view. During the daytime the floats are on display in their respective "garages'. The floats date from the 17th century. The fall festival is one of the three largest in Japan, after Kyoto's Gion Matsuri and the Chichibu Matsuri.
Varies as one can walk around town in the afternoon to see the floats displayed in their "garages" as well as watching the procession in the evening.

178 Sakuramachi, Takayama-shi, Gifu-ken 506-0858, Japan